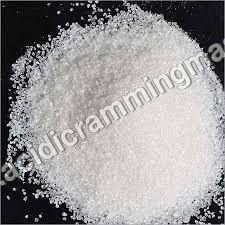 Silica Ramming Mass
Product Code : 02
Price And Quantity
Minimum Order Quantity

:

21
Unit of Measure

:

Ton/Tons
Product Specifications
CaO Content (%)

:

0.1%
Shape

:

Powder
Al2O3 Content (%)

:

0.5
Material

:

Pure Silica
Density

:

2.6 Gram per cubic meter (g/m3)
SiO2 Content (%)

:

98
Color

:

SNOW WHITE
Product Description
Backed by rich industry experience and knowledge, we are offering a wide range of Silica Ramming Mass that is directly related to the heating performance of the furnaces. Available in different quantities, these ramming masses are perfect for lining of induction furnaces. Our range is acknowledged among clients owing to possessing attributes such as corrosion resistance & thermal stability. This Silica Ramming Mass is used various industries like chemical & pharmaceutical.
Silica Ramming Mass (sio2) is a dry refractory material that is popularly used for lining coreless induction furnace for melting various types of metals under extreme temperature. It is basically a mixture of quartz and quartzite compounds that are mixed in the proportion to form a monolith product. The silica ramming mass is available in two variants that include pre mix, which has boric acid already added by the manufacturer & can be applied directly and another one is non premix in which, consumers need to add boric acid as per their requirement. This silicon mass is an acidic in nature and can withstand temperature up to 1720 degree Celsius.

The offered Silica Ramming Mass is made by our team of highly experienced and dedicated professionals from quality assured raw quartz and quartzite materials by utilizing latest technology and cutting edge machinery. Furthermore, the processed silicon mass undergoes magnetic testing process & quality evaluation stages for ensuring zero iron content in the product and also the proper composition of granules ideal for the furnace capacity.
We are the largest producer of Silica based Ramming Mass in india, producing material from fully automatic plant. ours is the only company india got listed at Bombay Stock Exchange producing ramming mass. From our ramming mass user can save huge amount on account of more lining life, more production with less electricity consumption.

The silica ramming mass is available in different variants, which are as follows,

Premium Silica Ramming Mass: This is made from best quality quartzite and is widely used grade of Silica Ramming Mass. This gives 30-40 % better results as compared to other Ramming Masses
Snow white silica ramming mass: This includes best quality quartz and is popularly used for the lining of small furnaces
Ordinary silica ramming mass: This type is specially used for nali top of induction furnace
Premix silica ramming mass: This is a pre mixed ramming mass type, which is ready to use
Key features of the Silica Ramming Mass are as follows,

Has less binders, fire clay and moisture

High resistance against corrosion

Minimal expansion and contraction at high temperature

Free from iron oxide

Melting point up to 3274F